Have a plugin, component or template for PHP Bootstrap?
The PHP Bootstrap submission process is so simple.
Terms and Conditions:
Plugins / templates must be compatible with the GNU General Public License.
Plugins / templates may not track users without their consent.
Developers are responsible for the contents and actions of their plugins / templates .
A stable version of a plugin / template must be available.
Developers and their plugins / templates must not do anything illegal, dishonest, or morally offensive.
Software as a Service is permitted. Your credits may be included in the source code.
Trialware is not permitted. Must be free of charge to users, who are allowed and encouraged to use and make changes.
Plugins / templates may not send executable code via third-party systems.
Code must be (mostly) human readable.
A complete plugin / template must be available at the time of submission.
---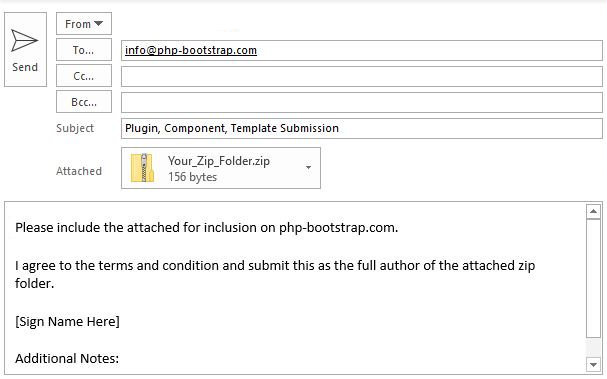 Submission Form:
What you may not know is that there are only two people that review the vast majority of the plugins / templates we receive: myself and my wife (she does far LESS than me).
Always ensure you have uploaded a proper zip file of your complete plugins / templates that we can review.
Believe it or not, but we do review every single line of every plugin / template that is submitted to the depository. If we can't see your code, we can't approve your plugin / template.
*Please note that there is no guarantee of acceptance. Enjoy a beer while you wait.